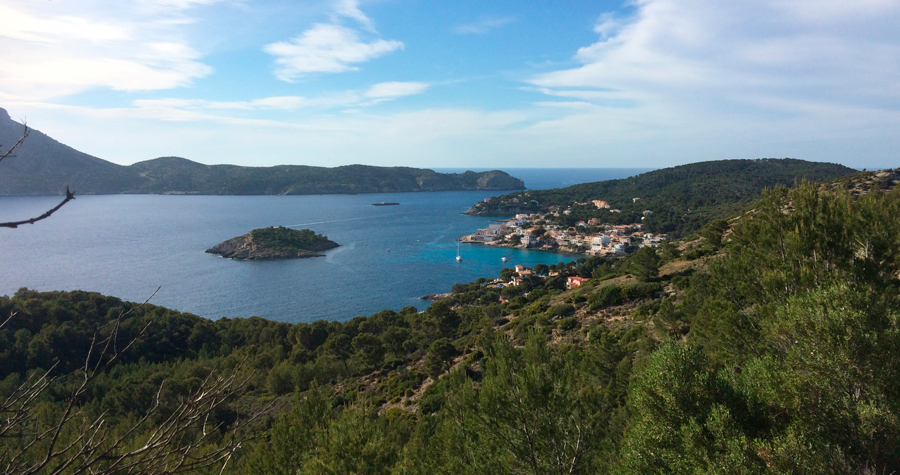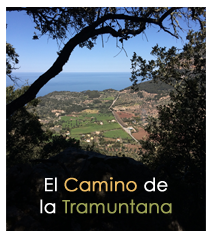 Introduction
El camino de la tramuntana is an experience that was created to offer alternatives to the situations we face when we are presented with different levels of personal challenge like feeling overwhelmed, unsure, blocked or when a major change is underway.
Unlike traditional retreats, El Camino de la Tramuntana is a seven day journey that offers you an opportunity to overcome these challenges with a specific proposition. When we feel physical exhaustion, we draw from the sources of energy around us; beauty, friendship, lightness.  When we feel stuck or confused, we move; shifting the mood, finding the right pace, inspiring new ideas.
Being in the wild of nature offers us a connection to our own nature and the unique path each of us are walking. Physical energy is matched with spontaneous signs of nature that open us to the interior experience of intuition and the exterior experience of metaphor.
This is the proposition. Walk with us and explore the interplay between energy, movement and stillness. The choices you make in life depend on a healthy relationship between all three.
Can you use this experience to find answers or solutions to what is happening in your life right now? Without a doubt. But basically, the proposal of this program offers something much larger. It will give you the ability to identify and utilize all the resources that are available to you when faced with the unknown and access a potential within yourself you may not have recognized before.
AGENDA
El Camino de la Tramuntana was conceived by walking it ourselves and we have selected paths that are both challenging and accessible to people with moderate physical endurance. This is not an athletic endeavor but it will require stamina and strength.
Each day will consist of 3-5 hours of walking mountainous terrain with varying levels of altitude. We will follow mostly the Gr221 or Dry Stone Route in Mallorca which includes ancient foot paths with dry stone walls, cliffs and mountain gorges. The forests are composed of Allepo pines and Holm oaks and there will are many terraced areas of olive and citrus groves that appear near mountain villages.
All the paths have been chosen for morning walks of 3-5 hours (9:30-13:30) and may be changed if necessary to adapt to current conditions. Lunch is followed by quiet time to rest, play, swim and spending time with others. Daily group conversations will be generated by the experience itself. Evenings will be dedicated to social time, enjoying the 7:30pm sunset and local cuisine.
AGENDA
Sunday, October 1
Arrival to Base Camp in Andratx. We welcome you and go over the essential things you will need to begin El Camino. Warm up walk to test the basics, backpack, shoes and conditioning.
Port Andratx to St Elm hugs the southwest corner of Mallorca with sweeping views of the sea and the island of Dragonera.
Estimated  time: 3 hours
Monday, October 2
We leave Base Camp and enter the Tramuntana mountains to begin our journey.
Puigpunyent to Estellencs. This path takes us through private estates and mountain forests before descending down to the seaside village of Estellencs. Here we can swim in Port d'Estellencs.
Estimated time: 4 hours
Tuesday, October 3
Estellencs to Banyalbufar/Port de Canonge. We continue the path with a lighter walk along the coastal GR221 route, taking us from village to village along the terraced farms facing westward.
Estimated time: 3-4.5 hours depending on whether we go all the way on the Sa Volta des General road to Port Canonge.
Wednesday, October 4
Banyalbufar/Port Canonge to Valldemossa.
Moving from the sea to the interior of the Tramuntana, we continue on less traveled paths toward the mountain village of Valldemossa. (This is day is still being explored).
Thursday, October 5
Valldemossa to Deia
This part of the journey is pure mountain range, slowly climbing upwards to a breathtaking peak of 945 meters called Es Caragoli. the sea views are spectacular walking along the ridge of Congles de Son Rullan and downward into the oak forest below.
Estimated Time: 4 hours.
Friday, October 6
Deia to Soller
On our last part of the journey, the path is easier and will give us time to meander through the private properties and low mountains areas as we make our way into Port Soller. There we will have an opportunity to swim and make our way to a family-owned olive farm, Cas Bernats.
Estimated Time: 4 hours.
Saturday, October 7
Morning rise and breakfast together in the hills overlooking Port Soller.  Closing celebration and departure from Cas Bernats. Transportation to the airport or other destinations on the island will be self-organized.
Prices and booking
Accommodations will be local Agriturismo residences with private shared rooms and breakfast. Along the trails we will enjoy picnic lunch or local restaurants depending on the length of the morning walk. Afternoons will be dedicated to relaxation, swimming in the Mediterranean sea and sharing stories.  Dinners will be in local restaurants close by our residence.
 Cost
Accommodations, food and activity are included in the fee of 1.200 € per person.
For any consult or request about this service, please contact Kimberly Hunn at kimberly@edgewalkergroup.com
Back to Events